Landscape lighting on Harrisburg Lawn Care can heighten the sophistication of garden beds, fountains, stone walls, walkways, and unique architecture on your property. When choosing lights, ensure they are rated for outdoor use, and bulbs are properly matched to the fixture.
Highlighting is an effect that creates drama by illuminating the base of a feature, like a tree or a statue. Varying the distance and angle of the spotlight can achieve different looks.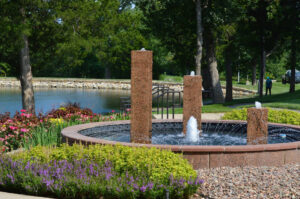 Whether you have a pond, fountain, or some other type of water feature in your landscape design, adding lights will make it easier to see at night. You can also illuminate trees, shrubs, and flowers to create a dramatic effect in the garden at night. A well-lit yard will attract attention and improve your home's curb appeal. The lighting you choose will depend on your goals for the yard, such as highlighting special features or creating contrast and shadows with the shapes of buildings and objects in your landscape.
There are many different types of low-voltage landscape spotlights, so choosing the right one for your needs depends on what you're using them for. You'll want to consider the brightness of each light, measured in lumens (lm). The higher the LM rating, the brighter the light. It would be best if you also chose a fixture that is designed for use outdoors. A fixture that is not intended for outdoor use may suffer from corrosion or damage, especially if it's exposed to weather elements like rain and snow.
Spotlights come in various styles, each with its purpose and look. For example, bullet-like lighting directs a narrow beam of light to highlight a particular object, like a statue or sculpture. Other lighting options include wash or downlights, which are mounted to a wall and shine down to illuminate structures like fences.
Some low-voltage landscape spotlights also have rotatable heads to expand their area. This makes it easy to focus the light where you need it.
When selecting a landscape light, you should also think about the color temperature of the bulbs used. Cooler temperatures provide a cooler white light that's more natural-looking, and warmer colors offer a more yellowish tone. Cooler-temperature bulbs are better for accenting the greenery in your garden, while warm-colored bulbs are best for highlighting dark-colored trees or flowers.
The final step in creating a landscaping lighting plan is to make a sketch of your space and identify the reasons why you're adding lights. This will help you determine the placement and size of each light. It will also help you estimate the power needed for the lighting system.
Path lights create a soft glow along walkways and paths. They help guests safely traverse the landscape after dark and add a welcoming touch to outdoor spaces. Path lights come in a variety of shapes and sizes. Some have shades that diffuse glare to prevent the lights from shining in people's eyes as they walk by. Other styles have a more decorative look, including nautical themes, lantern designs, globes, bells, and more. Some also double as accent lighting for garden arrangements and other features.
Like spotlights, path lights are available in both line and low voltage options so that homeowners can choose the best option for their homes. Low-voltage fixtures are more energy-efficient and allow you to control the amount of light they emit, which can save money over time. In addition, a professional can install lower-voltage lighting fixtures while ensuring the system's safety and wiring.
While path lights are the most common option for lighting pathways, other forms of lighting can enhance your landscape as well. For example, spotlights can highlight trees and other features that stand out at night. They can also flood a wall or fence in an entertainment area for more dramatic lighting effects.
Another way to enhance your pathways is to use ambient light to illuminate the route instead of path lights. This type of light comes from other sources, including street lights, the natural glow of nearby buildings and landscaping, sky glow (from artificial light reflecting clouds and mist), or moonlight. In these cases, it may be possible to use fewer path lights and space them farther apart, which can help reduce ground clutter.
When determining how many path lights to use, remember that the first and last fixtures should be located near the beginning and end of the pathway. The rest of the lights should be evenly spaced throughout the length of the pathway. To calculate how many fixtures you need, divide the total length of the pathway by half the maximum beam spread of the first and last fixture. For example, if your path is 50 feet long, and you've chosen path lights with a 16-foot max beam spread, you need 5.5 fixtures to light the entire pathway length evenly.
Landscape floodlights provide a wider pool of illumination, perfect for illuminating areas like walkways, driveways, outdoor living spaces, and gardens. They come in various styles and sizes to complement any style and budget.
LED landscape floodlights are popular for several reasons. They're energy-efficient, produce a high lumen output, and come in various color temperatures to match your desired aesthetic. They're also designed to withstand the elements for a durable lighting solution you can rely on to last.
When choosing the right LED landscape lighting for your project, you'll want to decide how bright you want the fixture to be. While many homeowners illuminate their landscape with a dim glow, others prefer a dramatic effect. This is why we recommend investing in light with adjustable lumen output so you can determine how brightly you'd like your space to be lit.
Another popular option for landscape lighting is uplighting. This is an effective way to highlight specific areas of your garden or backyard by placing the light directly below the feature you'd like to draw attention to. For example, uplighting a tree can bring out the structure of its canopy and create drama in your yard after dark.
In contrast to uplighting, flood lights accentuate features that don't need a directional beam of light. They're a great option for larger structures or items in your yard, like statues or garden beds. Alternatively, you can use them to highlight the textures of walls or brick surfaces after dark.
For large areas of your landscape that don't need to be accentuated, consider using downlights instead. While similar to uplighting, downlights have a narrower beam that's perfect for lighting up specific design elements of your yard from above.
Other types of landscape lighting include fountain lights, well lights, and step lights. Typically installed on decks, stairs, and railings, these fixtures add safety and accent your home after dark. You can also use them to illuminate water features or add a decorative touch to flag poles and other structures in your yard.
Step lights are designed to accentuate and illuminate outdoor stairs or steps in your landscape for safety. These fixtures are often surface mounted, making them an excellent choice for your stairs, but they can also be installed as part of a deck lighting system or as a separate fixture on a wall, fence, or other structure. Available in a range of finishes to complement your existing landscape lighting and design, these landscape lights for stairs can provide a softer glow than different landscaping lights and add a touch of beauty and sophistication to your outdoor space.
Stairways and outdoor pathways can be dangerous areas at night, but the light from your step lights will help you avoid falls by ensuring that you can see where each step begins and ends. Many evening stairway accidents are caused by people misjudging the lip or tread of each step. This is why it is important that your stair lighting effectively differentiates these surfaces so you can know precisely where each step is located.
If you'd like to create a more subtle, soft wash effect for your stairs, we can install recessed uplights underneath or on the side of your staircase for a more natural look. However, if you have stairs that are built into your landscape with a more rugged or rustic appearance, hardscape lighting is an option that highlights their unique shape while providing safe illumination.
Another type of stair lighting is a post-rail light, installed on the railing of your stairs and provides a more direct light for navigation. However, these fixtures can be tricky to install and wire properly, so it's best to work with a professional. When choosing your stair lighting, you'll want to consider the color temperature and other technical considerations. Generally, we recommend using LED bulbs to reduce energy consumption and maintain a high brightness level. Additionally, we suggest selecting fixtures that are UL or ETL Listed Wet for use in damp locations to ensure they'll withstand frequent exposure to water and rain.